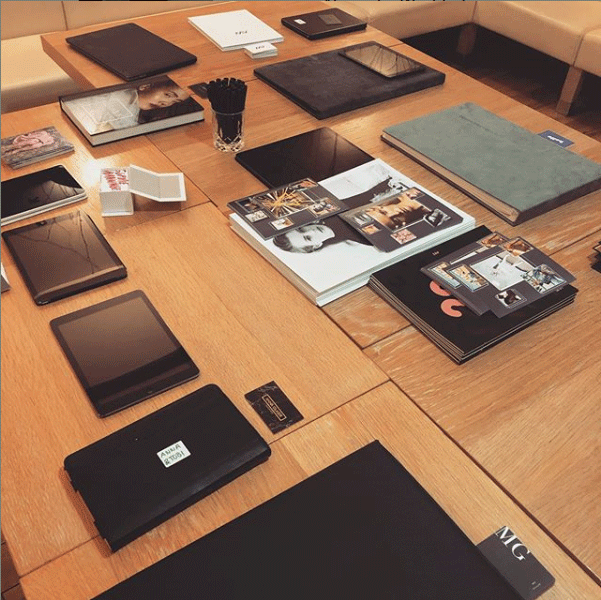 "Cherrydeck and MK Retouching invite you."
It all started with this saying.
We – Cherrydeck & MK Retouching – held an exclusive meet and greet of the beauty & fashion scene from Munich and the surrounding area on November 23rd, 2019.
What was this networking event about?
"Find and connect with photographers, videographers and models. We make collaboration between creatives and businesses easier." – Cherrydeck
This is Cherrydeck's motto. Which fits perfectly with this concept of events.
For me they are big supporters for the creative industry:
Cherrydeck has its own Blog with creative content,
They offer Marketing Tools, for example, CherryLink, feature artists on Instagram, do interviews, help with artists' Instagram marketing through tips & tricks
They also offer Cherrydeck Opportunities (which means they have different job offers for creatives), Cherrydeck Awards, Cherrydeck Deals (exclusive deals with their photo business partners) and
Of course Cherrydeck Events
A wonderful team from Hamburg (GER) with a great spirit! That's why MK Retouching agreed with big excitement to organize this local event.
What happened on-site?
The event started at 2 pm and finished at 7:30 pm at Dean & David, Nymphenburger Straße 4-12, Munich.
The group was quite diverse:
Photographers (10),
Make-up artists/hair artists (5),
Retouchers / post-production (5),
Stylists of a different kind (4),
Production (1),
Cherrydeck (1)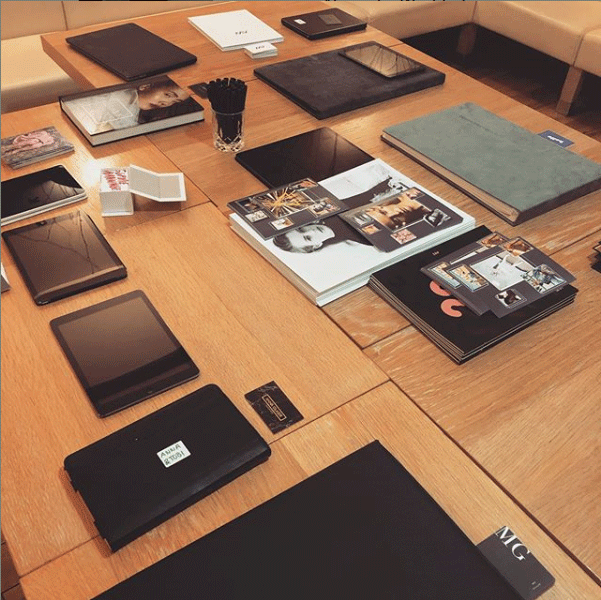 We had several rounds of speed dating with matching partners, a break with a wonderful catering from Dean & David (cakes, pretzels, sandwiches, wraps, and a wide variety of drinks) and finished with a diversity of professional printed and digital portfolios in a cozy round. We were very impressed by those amazing people and by their work we have seen on that day!
Thanks to the supporters!
We want to say big thanks to Dean&David for excellent catering, their mobile furniture concept, great offers, and on-site support.
Also a big thank you to all participants for their openness, the exchange, and the joy on this day.

What came out of it?
Of course, we are planning to do more events together! The feedback was just mind-blowing!
The world is full of amazingly creative artists that need to connect more! We want to create events with highly talented people from the industry meeting in a living room atmosphere, where everyone has the opportunity to exchange ideas, dreams, passion, and inspiration. We all know – a perfect team is key for a successful and fulfilled life.
However, we know this is a difficult undertaking due to the corona crisis and will, therefore, wait a little longer with new events.
Meanwhile, we want to share some great projects that arose from getting to know each other on that day.
4 photographers shoot 1 model
We –
Nina, Denise, Verena, 
and
Marina
, got to know each other at the Cherrydeck meets MK Retouching networking event in November 2019. It was already clear during the event – we are all sympathetic and would like to see each other again. Then we met a few times in Munich for creative exchange, a few cups of coffee, and had a great time together. After thinking about my own YouTube channel for a long time, I got the idea of ​​a video challenge. The requirement: 4 photographers take pictures of 1 model, each with
5 minutes of shooting
time. I got the inspiration for the challenge of
Jessica Kobeissi
's YouTube channel.
Each photographer was allowed to choose a complete outfit, make-up, styling, and location.
The results of the individual shootings were then compared with each other after each location.
It turned out that each of us photographed the model in its own way, each has its own style of posing, lighting, and communication with the model and so the same set resulted in the most diverse shots.
I called and so I had to shot first. In my photography, female self-determination and being feminine are in the same place as strong and self-confident women. That's why I kept my look very sporty but still sexy and photographed model Julia on a basketball court. My goal was to combine the soft, feminine features of Julia with the raw, urban look of a streetball basketball court. The challenge forces you to reinvent yourself again and again in the shortest possible time. Actual ideas are anticipated and you see yourself not only exposed to your own pressure but also to that of other photographers. Of course, that puts you under emotional pressure and you feel like you are in free fall at times. But like expected, raw diamonds were created by that pressure. What I liked most about the challenge was the creative process, which takes place at a much faster pace. You always have to force yourself out of your own routine or comfort zone.
The second look was styled by Denise. The model Julia wore a light floral dress, the location was surrounded by trees on the edge of the Hirschpark in Munich.
"With my outfit, I wanted to create a timeless and feminine look that was perfectly represented by model Julia. Above all, her natural look and her red hair harmonized very well with the outfit and the location. I was very happy to be able to work with the girls on this project on International Women's Day. We just had a lot of positive vibes that day! It was really interesting and nice to support each other and to see how our ideas differ from each other. I'm already looking forward to our summer edition!" – Denise Gligor.
Verena's outfit was a black pants suit and a back yard with garages served as the location.
"For me, as always, it stayed clean and straight in monochrome colors with a pinch of transparency. I did not feel uncomfortable in any setting of my fellow combatants – on the contrary. The different approaches of my colleagues and these small, subtle nuances that each brought in make the difference and the picture an independent work. The short time window of five minutes also drives you out of your own comfort zone and forces you to "get to the point" faster. Without previous great planning, this will fall back on learned routines, but it also brings new aspects, since you are not taking pictures on your own set. It is astonishing how many variations can be found in the same area – in our case fashion – and which dynamics also develop within the team. I can only recommend such a project to anyone who wants to think outside the box." – Verena Mandragora.
The fourth look was styled by Nina with an edgy hair and make-up and minimalist outfit. She chose a covered courtyard entrance as the location.
"The challenge was a really fun and challenging experience. It was interesting to see how each of us photographers brought in a different style and aesthetic. Given that we were only allowed to shoot with the model for 5 minutes, we all did great work. Sometimes it's just good to get out of your comfort zone and push yourself to the limit. You could feel that and I would definitely do it again!" – Nina Masic.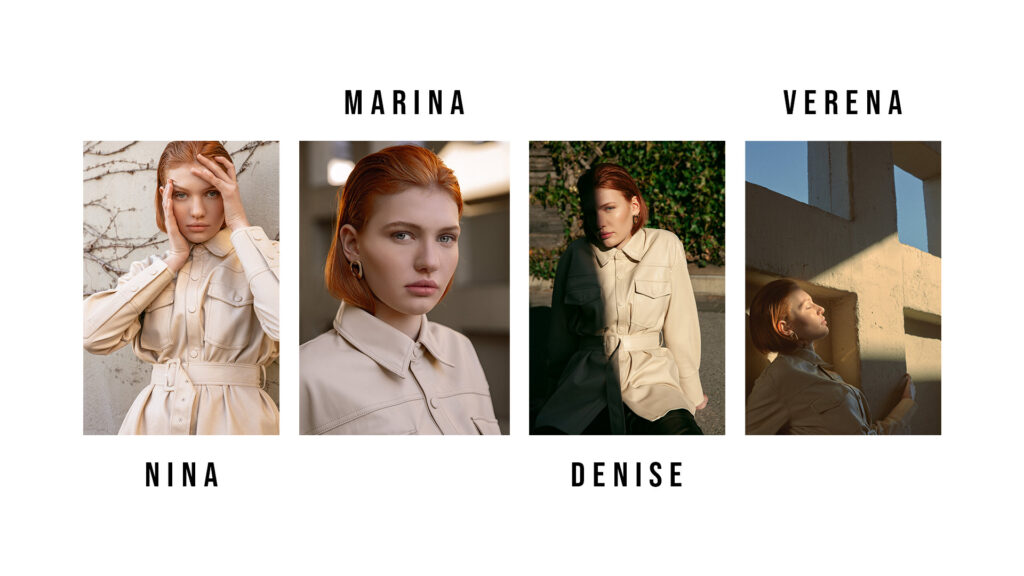 But the challenge was not only new territory for us photographers, our model Julia Strege from Modelwerk also had to coordinate a lot during the shoot:
"Although it was a challenge to switch between the photographers and not to be put under pressure by the time, I really enjoyed the shoot and I found it a great experience." – Julia Strege
We also got to know our make-up artist Anna Glaser at the Cherrydeck event and like us, she was also enthusiastic about this project:
"For me as a make-up artist, it was great and exciting to see how differently each individual creative person saw the model Julia. Due to the specifications regarding hair and make-up and due to the very different styling, a completely new vibe has arisen every time. The project has given me new creative incentives! " – Anna Glaser
A big thank you also to our cameraman Daniel Petz from TheThreeSeven, who accompanied us throughout the day.
"It was particularly exciting for me to be able to hold onto this concentrated load of creativity in such a harmonious but still competitive environment. The different approaches and the emotional pressure that the four photographers built themselves up were sometimes almost palpable. I think it was this pressure that made the day so special." – Daniel Petz
Click below to see the finished 16-minute video on Marina's Youtube channel. Here I would like to mention music producer Michael Stelz, who produced beats for the video.
(See Cherrydeck's recap of the event, here)